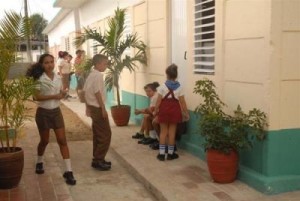 "This looks like a different place" is the recurring phrase that students, parents and teachers use to illustrate the reconstruction work that saved the Special School Camilo Hernandez Carmona, in Taguasco municipality, from ruin.
As the cumulative deterioration required a thoroughly constructive intervention, the authorities and the sector in the territory determined to close the center in April 2012, relocating its students in other facilities near their homes, to fully embrace the noble purpose of transforming the property.
After ten months the metamorphosis is tangible: fibro roofs were changed for lightweight concrete with styrofoam celings, collective bathrooms were replaced by others with more privacy and better comfort, the dining room located 200 meters away, was now placed attached to the classrooms and dorms.
Benefits for workshops and outdoor areas, a new playground, volleyball and basketball fields, a Marti square and a perimeter fence complete the work that Javier Brito Perez, president of the Municipal Assembly of the People's Power in Taguasco described as the daughter of many hands.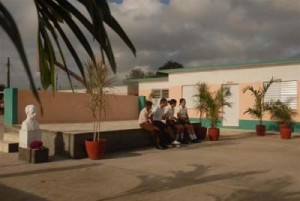 Valued at 434 thousand pesos, the investment also included the rehabilitation of the kitchen and electrical networks, new furniture for the teaching activity and the placement of televisions in the bedrooms, actions aimed at the welfare of more than a hundred students with different limitations for learning.
"This mean a lot to us", says Aldo Pedro Ramos, director of the institution; especially for  students and parents, as it all translates into security and safety. For the people, the revolution continues rooted to its principles. "