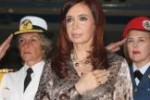 Presidents of Bolivia (Evo Morales), Argentina (Cristina Fernandez) and Uruguay (Jose Mujica) arrived here today to attend the funeral of Venzuelan Head of State Hugo Chavez, who died on Tuesday afternoon in the Doctor Carlos Arvelo Military Hospital.
Morales offered his sincere condolences to Chavez' relatives, friends, the Venezuelan government and its people for the death of their leader.
"We come to Venezuela on behalf of the Bolivian people to join this country as it passes through a very difficult time due to the loss of the friend Chavez was," noted Morales.
"Sadly, we have lost a leader, but, for us, he will always be the Commander of the liberating forces of Latin America," emphasized Morales.
Also in Caracas are the presidents Cristina Fernandez (Argentina) and Jose Mujica (Uruguay) who arrived very early to pay tribute to Chavez.
Both head of state travelled in the presidential plane of the Argentinean dignitary.