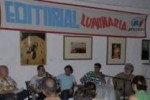 Until next April 3rd, 2013, Sancti Spiritus's Ediciones Luminaria Publishing House will receive comic strips made by Cuban artists.
Authors are allowed to compete with only one story, which must have text and title, and at least two pages length.
The free-theme works must be sent to: luminariacomic@gmail.com. It is recommended to send the story pages one by one, with a number on them, and identified with the name of the story. The full name of the author, home address, telephone number, and curriculum must be attached.
The work of the winners will be included in a unique book that will be part of Ediciones Luminaria's editorial program for the year.
Ediciones Luminaria Publishing House is found at 62 Maximo Gómez Street, between Tirso Marín and Calderón, Sancti Spiritus. Telephone number: 326582.
(Taken from Juventud Rebelde and translated by Escambray)