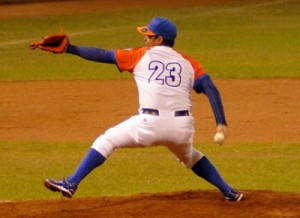 With a total of 1 382 votes, Sancti Spiritus hurler Ismel Jiménez was elected as Cuba's most popular baseball player, in the survey made prior to the 26th All-Star Game to take place this weekend in this territory.
The election of Sancti Spiritus as venue of the event is considered a well deserved reward, taking into consideration that the local baseball team was placed first at the end of the first stage of the season, with a 30-14 record.
The All-Star Game roster was announced this Thursday by the baseball national commission. Athletes were all chosen on the basis of fan votes.
The sport event will be preceded by the traditional skill competition, to be held on Saturday, including the awaited Home Run Derby, and a game between veterans.
Starters Ismel Jiménez (Sancti Spiritus), and Vladimir García (Ciego de Avila), were the leaders in the popular vote made to chose the athlete members of the West and East teams to play against each other next Sunday.  José Dariel Abréu, Yosvani Peraza, Alfredo Despaigne, and Yander Guevara were next in the vote.
The two teams were made up as follows:
East team: Catchers: Yulexis La Rosa (VCL) and Lednier Ricardo (CMG). Infielders: Yordanis Samón (GRA), Joan Carlos Pedroso (LTU), Danel Castro (LTU), Raúl González (CAV), Yeniet Pérez (VCL), Maikel Castellanos (SCU), Yordan Manduley (HOL), and Yorbis Borroto (CAV). Outfielders: Alexei Bell (SCU), Rusney Castillo (CAV), Yoelvis Fiss (CAV), Reutilio Hurtado (SCU), Alfredo Despaigne (GRA), and Edilse Silva (SCU). Dessignated hitter: Ariel Borrero. Hurlers: Vladimir García (CAV), Yander Guevara (CAV), Danny Betancourt (SCU), Yasmani Hernández (VCL), Yoelkis Cruz (LTU), Carlos Juan Viera (LTU), Diosdani Castillo (VCL), and Yadir Rabí (CAV). Coach: Ramón Moré (VCL). Assistants: José Hernández (CAV) and José Luis Rodríguez (LTU). Trainer: Manuel Álvarez (CAV).
West team: Catchers: Eriel Sánchez (SSP) and Frank Camilo Morejón (IND). Infielders: José Dariel Abréu (CFG), Alexander Malleta (IND), Andy Ibáñez (IJV), Johan Moncada (CFG), Yulieski Gourriel (SSP), Pavel Quesada (CFG), Erisbel Arruebarruena (CFG), and José Miguel Fernández (MTZ). Outfielders: Stayler Hernández (IND), Yadiel Hernández (MTZ), Yasmani Tomás (IND), Guillermo Heredia (MTZ), Frederich Cepeda (SSP), and Irait Chirino (IND). Dessignated hitter: Yosvani Peraza (PRI). Hurlers: Ismel Jiménez (SSP), Wilber Pérez (IJV), Odrisamer Despaigne (IND), Vladimir Baños (PRI), Noelvis Entenza (CFG), Jorge Hernández (CFG), Raicel Iglesias (IJV), and Duniel Ibarra (CFG). Coach: Yovani Aragón (SSP). Assistants: Bárbaro Marín (CFG) and Wilber de Armas (IND). Trainer: Juan de Dios Peña (SSP).
Baseball veterans to take part in Saturday game are the following:
East team: Catchers: Roger Machado (CAV) and Miguel Zayaz (CMG). Infielders: Loidel Chapelli (CMG), Wilfredo Hernández (GTM), Gabriel Pierre (SCU), Evenecer Godínez (SCU), Lázaro López (VCL), Agustín Arias (GRA), and Juan Dranguet (GTM). Outfielders: Osmani Urrutia (LTU), Rey Isaac (SCU), Víctor Bejerano (GRA), Robelkis Videaux (GTM), Jorge García (SCU), and Ermidelio Urrutia (LTU). Hurlers: Omar Luis (CMG), Eliécer Montes de Oca (VCL), Giorge Díaz (GTM), Luis Miguel Rodríguez (HOL), Juan Pérez Pérez (CMG), and Félix Núñez (LTU). Coach: Felipe Sarduy (CMG). Assistants: Luis Jova (VCL) and Leandro González (GTM). Trainer: Braudilio Vinent (SCU). Deelagate: Jesús Barroso (DNB).
West team: Catchers: José Raúl Delgado (SSP) and Armando Ferreiro (HAV); Infielders: Antonio Scull (HAV), Juan Padilla (HAV), Omar Linares (PRI), Lázaro Vargas (HAV), Alexander Ramos (IJV), Giraldo González (PRI), and Miguel Rojas (SSP). Outfielders: Juan Carlos Linares (PRI), José Estrada (MTZ), Reemberto Rosell (CFG), Fernando Sánchez (MTZ), Romelio Martínez (MAY), and Wilfredo Sánchez (MTZ). Hurlers: Omar Ajete (PRI), Lázaro Valle (HAV), Yovani Aragón (SSP), Faustino Corrales (PRI), Carlos Llanes (IJV), and Rogelio García (PRI)). Coach: Pedro Chávez (HAV). Assistants: Juan Gómez (HAV) and Juan Suárez (MTZ). Trainer: Oscar Martínez (ART). Delegate: Rodolfo Puente (HAV).