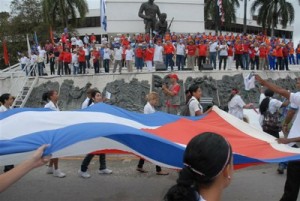 The moment is approaching, everything is ready for Wednesday 8:00 am, when Sancti Spiritus's parade on May 1st will initiate towards the Serafin Sanchez Valdivia Revolution Square to celebrate the International Workers Day.
Under the motto "United for a prosperous and sustainable socialism", the people in that Cuban central territory are to take the streets to reaffirm their support for the immediate release of our Five Heroes imprisoned by the empire as well as the implementation of the Economic and Social Policy Guidelines for the Party and the Revolution.
According to Orlando Abreu Hernandez, official of the ideological sphere of the Federation of Cuban Workers (CTC) in Sancti Spiritus, the parade will begin with remarks by Domingo Gutiérrez Gutiérrez, secretary general of the organization in the province, to be followed by the presidency's parade and thereafter each territory unions, led by the Ministry of Education.
Abreu Hernandez  added that the education sector workers are privileged with the start due to the the positive results obtained this year and the history of education in Cuba, especially after the triumph of the Revolution to present times.
When the parade concludes, the CTC in the province plans to hold its 74 birthday with recreational and gastronomic offers in the Delio Luna Echemendía Fair, as well as in areas adjacent to the Serafin Sanchez Valdivia Square, and the Avenida de los Mártires Paseo.
The official added that similar marches take place in different towns in Sancti Spiritus and that each municipality will parade simultaneously on May Day, with festivities scheduled after these come all to an end.