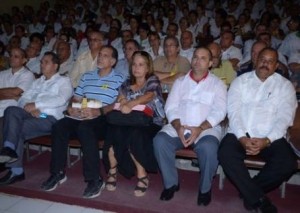 The Hero of the Republic of Cub attended the ceremony held at the local University of Medical Sciences.
On behalf of the participants in the ceremony, renowned intensive care specialist Dr. Armando Caballero López praised the highly-valued actions carried out by The Five in the United States, and pointed out that each of them has fought for Cuba.
Dr. Caballero explained that Rene has requested the sectorization of the struggle for his incarcerated brothers, and that Cuban health sector sends a statement in this sense to universities and health centres in the United States.
He also highlighted the work so far performed by the physicians graduated forty years ago, most of who have got a high scientific level, and have fulfilled internationalist missions in Asia, Asia, and Latin America.
During the commemorative event, certificates of recognition were granted to Dr. William Alonso Delgado, Dr. Mirdo Espinosa Puente, and Dr. Carlos García González, representing the graduates from Cienfuegos, Villa Clara, and Sancti Spíritus, respectively.
Likewise, Dr. Alexis Lorente Jiménez, Rector of Dr. Faustino Pérez University of Medical Sciences, gave Rene Gonzalez a ceramic work of art, and the coat of arms of the city.
The ceremony was presided over by José Ramón Monteagudo Ruiz, member of the Central Committee of the Cuban Communist Party, and first secretary of the political organization in Sancti Spiritus, along with other local party and governmental leaders.
[nggallery id=80]