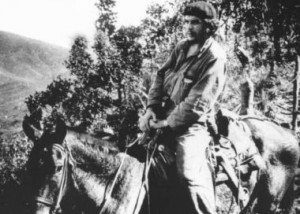 The constitution of the March 13 Revolutionary Group's Guerrilla Front at Escambray was marked on occasion of its 55th anniversary. The ceremony was be held at El Algarrobo, where the headquarters of the rebel forces was set up in 1958.
The Guerrilla Front was worked out in Cuba and Miami (USA), from where an expedition of Cuban revolutionaries left for the island on January 31st, 1958. They landed in Nuevitas, Camaguey, and arrived in the Escambray mountains on February 13th.
February 13th was recorded as the foundation date of the March 13 Revolutionary Group's Guerrilla Front, led by Commander of the Rebel Army Faure Chomón Mediavilla.
Upon arrival in Escambray by the end of 1958, the 26 of July Movement's troops headed by Commander Ernesto Che Guevara, merged with the guerrilla rebels.
Both groups made up the so-called Las Villas Front, which later on expanded, and got involved in the liberation of several cities and towns until January 1959, when the Rebel Army triumphed and the Cuban people achieved freedom and independence.
(Taken from AIN, and translated by Escambray)