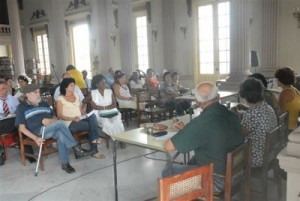 The 15th Voces de la República (Voices of the Republic) Colloquium will be held in Sancti Spiritus, central Cuba, from May 14th to 17th.
This year, the event will be dedicated to Cuban soprano Esther Borja's centennial celebration, and to mark the sixtieth anniversary of the homage paid to Jose Marti in 1953.
Juan Eduardo Bernal Echemendía, president of the local Jose Marti Socio Cultural Society subsidiary, and in charge of the organizing committee of the colloquium, said that it is the country's only continuous forum where experts meet to discuss neo-colonial history.
Intellectuals such as Mario Mencía, Jorge Luis Aneiros, Rolando Rodríguez, Luis Toledo Sande, and Francisca López Civeira, among others, will present papers on culture, politics, religion, economy, as well as on the acceptance of Marti in neo-colonial times.
Since 1999, Sancti Spiritus's Ruben Martinez Villena Provincial Library has been the venue of most of the colloquium activities, which this time include panels on the so-called Centennial Generation, the life of Esther Borja, and presentation of books.