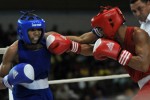 Sancti Spiritus boxer Yosvany Veitia got one of the six gold medals won by the Cuban squad that attended the Independence Boxing Cup, in the Dominican Republic.At the amphitheatre of the Technological University of Santiago, the Cuban delegation defeated its rivals, and only one man, Yasnier Toledo, won the bronze medal in the 64-kg division.
The first two gold medals went to Yosvany Veitía (49 kg) and Ivan Oñate (60 kg), who defeated the U.S boxers Leroy Davila and Kernett Sims by 14-8 and 18-15, respectively.
Another U.S. fighter, Rashidi Ellis (69 kg), lost 12-23 to Cuban Olympic champion Roniel Iglesias.
In the 75-kg division, Yasiel Despaigne beat Rafael Fernandez, from the Dominican Republic, 18-6.
World champion Julio Cesar La Cruz (81 kg) and Erislandy Savón (+91 kg) were the other gold medalists.
We are very happy with the results, we fulfilled our expectations, our men practiced and now we have more elements to work on deficiencies, the technical head of the Cuban delegation, Rolando Acebal, told Prensa Latina.