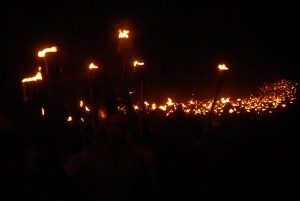 Sancti Spiritus marched to mark Jose Marti's 160th birthday anniversary.The rainy afternoon of Sunday, January 27th, threatened some outings and even muddied up the baseball game between Villa Clara and the home team, however it did not prevent thousands of residents of the Cuban central province of Sancti Spiritus, from celebrating, torch in hand, the 160th birthday of the Apostle.
The river of people grew from Commandante Fajardo (Sobral) street throughout the Central Highway to the campus of the University, named after the most universal of Cubans, and then twisted through Avenida de los Mártires (Martyrs Avenue) toward the Serafin Sanchez Valdivia square.
Prior to the startup of the parade, which featured similar events in all municipalities of the province, a young university student recalled the first march of its kind, organized 60 years ago on the occasion of the 100th anniversary of the birth of José Martí.
Under the slogan Martí para todos los tiempos ( Marti for all times), actions continue on Monday in Sancti Spiritus, when the pioneers of the territory become protagonists in a parade honroing Cuba's National Hero.
At a national level, one of the activities to celebrate the birth of the organizer of the war of independence of 1895, is the 3rd International Conference on World Equilibrium, forum based in the Havana Convention, attended by about 600 delegates from 43 countries .
[nggallery id=45]