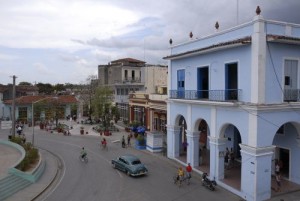 The upcoming 500th foundation anniversary of Trinidad and Sancti Spiritus, the third and fourth villages founded by Diego Velazquez in Cuba, is enough pretext for a celebration that has derived several changes in both territories.
Caring for cultural heritage on the basis of a program in which local entities are involved, is a way to saveguard the architectural values of Sancti Spiritus, also known as the Yayabo village.
According to Yoel Gallardo, president of the Municipal Assembly of the People's Power here, such undertaking is the focus of the 499 anniversary of the city program, to be celebrated next June.
Gallardo briefed on several immediate actions like the restoration of the Serafin Sanchez Park and its surrounding areas, as well as the construction of restrooms in the city, which has been for very long time demanded by local residents.
It is very important to get all the people involved in tasks which are still pending such as the conclusion of the final segment of the Avenida de los Martires Paseo, the paving of the main roads of the city's historic area, and doing what is needed to give a better atmosphere to the banks of the Yayabo river, he added.
Resident of Trinidad are doing no less concerning the upcoming 500th foundation anniversary of the village.
According to Moises Rueda, vice president of the Municipal Assembly of the People's Power in this southern Cuban territory, the preservation of local architectural values is part of a strategy aimed at the development of the village, and the improvement of the quality of life of the population.
This year, he said, some 750 actions have been secheduled including investments and repairs in several museums, and the local theater.