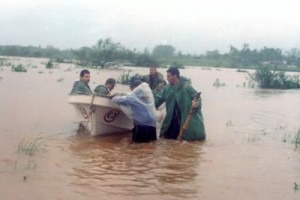 Studies on the hazards, vulnerability and risks continue in  Sancti Spiritus. By Alden Hernandez Diaz, Journalism student
Researches related to heavy rains, strong winds, coastal flooding due to surges, rural fires and landslides have already been completed. Technological disaster and intense droughts are on initial phase, said Nestor Alvarez Cruz, environmental management specialist, to Escambray.

In conducting these researches the participation of some institutions has been critical, such as the Environment Unit, the University of Sancti Spiritus and specialist groups depending on the subject of the inquiry, like Agriculture and Housing.
The results of these studies are key to determine the measures towards reducing vulnerability in the affected areas, as well as to implement the experiences in the decision-making of each case of disaster and also to provide the basis for developing the process of investment and the economic and social development in general.
"The studies are just a preliminary approach, we need to perfect them in order to make up a guide to continue deepen into the problems. These researches are born of the need to make people understand the risks of climate change, it's a matter of creating awareness", explained the specialist.
The implementation of these studies began in 2005. Currently the guiding document for the regulation of these projects is the 2010 Directive No. 1 of the President of the Council of National Defense  for disaster reduction.