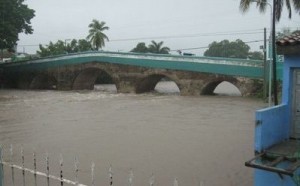 For the last few months, and within the framework of the 500th foundation anniversary celebrations of the Holy Spirit Village, sanitation actions have been carried out at Yayabo River.
According to local water resources officials, actions have been mostly focused on the area between the two bridges that connect the city with Colon district. The existence of aquatic life is taken as one first result of such actions.
These sanitation works, which will be expanded to several further areas, demands great expenses. Just to give an example, nearly 1 000 litres of fuel are needed, a luxurious disbursement taking into consideration the current economical situation.
The governmental commission responsible for environmental improvement around Yayabo River, has called on local residents to support and care for whatever actions are undertaken.
Regarding recreation, several proposals are being studied, but the creation of a canoeing nautical base in 2014 is the only one so far defined.
The sanitation program cannot be concluded from one day to the next. On the other hand, the territory doesn't have much funding for the purpose. Nevertheless, the concern and cooperation of local organization, entities, and people in general, could greatly help this environmental endeavour.
Yayabo River rises next to Caballete de Casa, in the Escambray range of mountain, and runs for nearly 37 kilometres until Zaza dam. Specialists affirm that the river course is stable, clean, and with quite cobbled bottom up to a few kilometres before it gets into the city. Once there, it turns into one of the most contaminated rivers of the region.