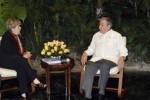 The President of the Cuban councils of State and Ministers, Army General Raul Castro, met with the Executive Secretary of the Economic Commission for Latin America and the Caribbean (ECLAC), Alicia Barcena, on a visit to the island.
Raul and Barcena highlighted the excellent state of relations and exchanges between the government of Cuba and the ECLAC.   The Cuban President thanked the Commission for its willingness to boost cooperation with the Community of Latin American and Caribbean States (CELAC), the pro tempore chairmanship of which Cuba took on this year.
Important topics on the international agenda having an impact on the Latin American and Caribbean region, like the global economic and environmental economic crisis, sustainable development and food prices were tackled during the friendly meeting.
Also participating in the meeting were Foreign Minister Bruno Rodriguez and Rodrigo Malmierca, Minister of Foreign Trade and Investment.