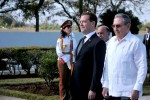 Cuban President Raul Castro expressed his satisfaction with the working visit paid to Cuba by Russia's Premier Dimitri Medvedev, during which Moscow and Havana signed ten cooperation protocols.Following a ceremony to pay tribute to the Soviet Internationalist Soldiers in Havana, Raul Castro said that the visit has been good and he invited the press to listen to the speech he will deliver on Sunday, February 24, at the session that will set up the new Cuban Parliament.
Meanwhile, Medvedev said his stay in Cuba helped expand bilateral relations, and described the protocols signed in the areas of aeronautics, education, science and technology as very important documents.
In statements to Prensa Latina news agency, the Russian Premier said bilateral relations with Cuba are historic, solid and strategic links and that the current trade exchange, currently over 200 million dollars, is expected to increase over the next few years.
Medvedev wound up his working visit to Cuba, which included a meeting with Revolution leader Fidel Castro on issues related to Cuban economy, the world food situation, the harmful impacts of climate change and other problems facing today's world.