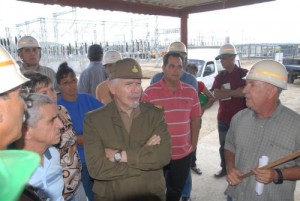 Ramiro Valdes toured several downtown areas in Sancti Spiritus, and talked to local specialists about several issues concerning  renewable energy.
As a very rewarding experience for Cuba qualified the Commander of the Revolution Ramiro Valdes Menendez, Politburo member and vice president of the Councils of State and Ministers, the proposal of using livestock waste to generate energy in the Swine Comprehensive Center located in Guayos, in Sancti Spiritus's municipality of Cabaiguán.
Valdes toured several downtown areas, where he exchanged with specialists on the topic and deepened on the results and prospects in the use of renewable energy.
The Politburo member was accompanied by Alfredo Lopez, Minister of Energy and Mines, Jose Ramon Monteagudo, member of the Central Committee and first secretary of the Party in Sancti Spiritus, and Teresita Romero, president of the Provincial Assembly of the People's Power.
Belonging to the agricultural branch of the Ministry of Interior (MININT) and basically dedicated to the production of pork and beef, the company has also become reference in the use of closed-cycle waste, experience that links fighting pollution, with the rational use of water, the conservation and improvement of soil and the development of sustainable agriculture and energy.
Previously the vice president of the Councils of State and Ministers met with implementers and investors accountable to the construction and installation of the 220 kV substation located in Tuinucú, in Taguasco municipality, a work that is strategic for the future development of Sancti Spiritus province.
With cutting edge technology from China, the plant will be the only one remote-controlled in Cuba and can cater to all municipalities in the province, with the exception of Trinidad, which remains fuelled by the south through Cienfuegos's lines.
Valued at just over 25 million, the investment will help reduce the transfer of 110 kV lines, will help reduce losses through local direct transformation, ensure the load growth in the area and will provide the overall system safety.