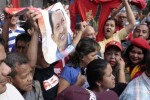 President Hugo Chavez arrived in Venezuela on Monday morning, after completing a first stage of his recovery process in Havana, Cuba, where he underwent surgery last December 11.
"We arrived in the Venezuelan Homeland again. Thank God! Thank beloved people! Here we will continue the treatment!," wrote the Head of State in the small hours on Monday morning in his Twitter account @chavezcandanga.
In two subsequent messages, Chavez informed that he will continue his medical treatment in Caracas and thanked as well to the Cuban people, president Raul Castro and revolutionary leader Fidel Castro. !Thanks Fidel, Raul and the entire Cuba! Thanks Venezuela for so much love!"
"I continue clinging to Christ and confiding in physicians and nurses. Onward to victory! We will live and win!"
Citizens celebrate Chavez return in Caracas
Several revolutionary citizens gather since early morning on Monday at Bolivar square, downtown Caracas, to express their love and joy for the return of Venezuelan president Hugo Chavez, who arived in the country at 2:30 in the morning.
"The loved son has arrived, the cherished son of Venezuela. That great man who has given his life to the people and who today leads people once again to the streets filled with love, with great emotion because our President is already in our country," said Arnilu Serrano.
Serrano said that the battle for life endured by president Chavez during the last months convenes the Venezuelan people to continue fighting for the sovereign, free and independent homeland.
In turn, women expressed their love for the revolutionary leader by chanting "he came back, he came back, he came back," as they did when the government was restored after a brief coup d'état on April 2002. Also, women thanked God and the Cuban people for helping Chavez during the first stage of his post-operative treatment.
Martha Ferrer recalled that hours earlier, in the same Bolivar square, people's desire was expressed in these words: "he will come." She added that "the best news when we woke up was to know he was here."
Since that moment, Ferrer said, she went to Bolivar square to celebrate and pay attention to guidelines on behalf of the United Socialist Party of Venezuela (PSUV) about a nationwide celebration.
"We are happy because our second liberator arrived. Women in this country love you, we want you and we were waiting for you," Ferrer said to Chavez.
(Taken from AVN)