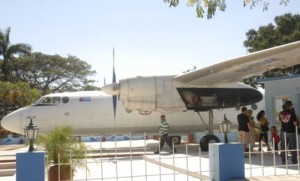 The plane that Escambray reporters announced to "have crashed" last May 24th somewhere in the city of Sancti Spiritus, is about to "take off" in the local Delio Luna Echemendia fair.
The aircraft was a donation from the Cuban Airlines agency, and it was decided to turn it into a restaurant. The plane was brought from Havana's Jose Marti International Airport, and its arrival in the city kind of "set up" local people.
The comfortable typical Cuban food restaurant has been decorated with the colours used by the airline. It will host dinners up to 24 people, and seating is available in the snack bar until the ordered food is ready.
It took a little more than two months to remodel the location where the plane was definitely placed, next to the rear entrance of the fair, on Carlos Roloff Street.
[nggallery id=51]