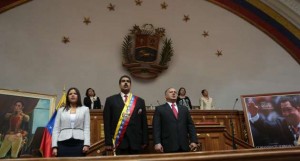 Venezuelan President-elect Nicolas Maduro was sworn in as new constitutional president of the Bolivarian Republic of Venezuela, in a ceremony held at the National Assembly headquarters of that South American country.
Diosdado Cabello delivered the keynote speech, in which he expressed appreciation for the people, and recalled the leader of the Bolivarian Revolution Hugo Chavez.
Raul Castro in Caracas for Presidential Inauguration
Cabello affirmed that Venezuelan people kept the promise made to the leader, and mentioned one of the mottos that led the electoral campaign: Chávez, te lo juro, mi voto es para Maduro (Chavez I swear, my vote is for Maduro).
The solemn ceremony was attended by presidents of the region, who arrived in Caracas since early this morning. Top representatives of the different branches of the Venezuelan state were also present.
Maduro's sworn-in ceremony was supported by a crowd of Chavez's followers who gathered around the Parliament headquarters.
(Taken from Cubadebate and translated by Escambray)