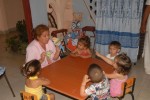 A new day care was opened this Wednesday in Sancti Spiritus, central Cuba, on occasion of the 52nd anniversary of the creation of those children institutions.The childcare center is located in Tuinucu, in the local municipality of Taguasco, and is the 33rd of such institutions in the territory; where over 4 500 children attend daycares.
Countryside Daycare in Sancti Spiritus
Daycares were first established in Cuba on April 10th, 1961, under the direct supervision of Vilma Espin (1930-2007), founder president of the Federation of Cuban Women organization created August 23rd, 1960.
Camilo Cienfuegos, Ciro Frías, and Fulgencio Oroz daycares, were the first three ever created in Havana.
(Translated by Escambray)