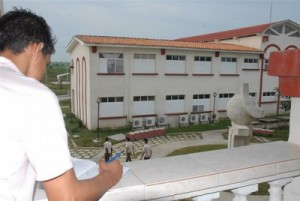 The Technical and Vocational Education (TVE ) in Sancti Spiritus sums up about 630 new students of mid-level technical profiles, and 1981 looking for the skilled worker qualification.
According to Yoerlandi de la Paz Fernandez, head of the TVE Department of the Provincial Board of Education, the 60 % of the enrollment responds to the priority of training craftspersons, the highest labor force demanded in the country .
"However, a significant number of students has not been incorporated to the polytechnics' classrooms; 2644 places were given and around 40 students still are not willing to enter", said De la Paz Fernandez, who recognized the vocational training deficiencies, although there is a decrease in these cases compared to last year.
"All Secondary School graduates are guaranteed their posts, there were even more school places and thus, more choices. We alerted the families about the importance of learners not conforming with staying at the secondary level in times that require more preparation, and also about the need of their continuity under an education influence of great contribution to the local socio-economic development .You can also go to college this way", notes Yousy Diaz Perez , deputy provincial director of Education.
The busiest admissions of the 47 specialties taught in TVE institutions are in areas like services and construction, while 11 new options are included such as Craft , Maintenance and Construction Repair, Spinning, Weaving and Textile Finishing .
Comprehensive Laundry , Gardening, Hotel Accommodations , Gastronomic Services and Food processing are exclusive news for the town of Yaguajay, granted by the Gaviota Tourism Group . Meanwhile, some others are studied in other provinces such as Pattern Fishing, Marine biology and Railroading, as there is no infrastructure in the territory for these profiles.