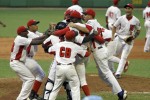 Victor Mesa Crocodiles performed as kings in the Victoria Giron Stadium and swept Sancti Spiritus Roosters to tip the balance in their favor while getting one game closer to the final of the Cuban baseball 2013 championship.
Matanzas baseball team went to the 5th game of the playoff subseries vs. Sancti Spiritus really motivated, and made possible a 3×2 came-from behind victories.
In a nail-biting encounter, Crocodiles took an early lead 3×0 and got off the box Roosters's starter Angel Peña. The runs turned out to be decisive as the visitors managed only to tie actions in the 3rd but were not capable of winning despite the locals' four errors.
Sancti Spiritus's offense continues in crisis and left 11 men on base on Tuesday game, with the case of Eriel Sanchez being the most worrying (the catcher and 5th man on the roster has left 10 in the playoffs).
Thus, is a must for the squad led by Yovani Aragon to win the 6th match to be held on Friday in the Jose Antonio Huelga Stadium. Ismel Jimenez and Joel Suarez should face for the third time to see who wins the individual duel as each of them has one victory and one defeat.