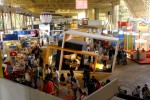 More than 110 institutions from all Cuban economic sectors will mount stands at the Thirty First Havana International Fair, which will open its doors on November 3rd.
An overview of Cuba's medical advances –both in terms of techniques and medical products–  will be advanced at the Fair, providing information and trade possibilities with Cuba, being the most advanced Latin American country in that field.
Havana's International Fair, accepted as one of the most important in Latin America, is sponsored by the Cuban Chamber of Commerce.
New products and services will be launched at the Fair by Cuban trade, service and industrial concerns, and the recently created Cuban Ministries of Industries and Mining and Energy will provide business opportunities.
Business meetings have already been announced by joint Entrepreneurial Committees  of Cuba, Spain and Russia.
More than 60 countries have confirmed their attendance along with thousands of businessmen from all over the world.