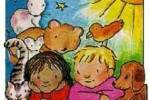 Cuban children celebrate the Program for the International Children's Book Day with dissimilar proposals that bring back some characters created by authors from the island and universal literature.
With fresh air of adventure, fairy tales, poems and stories of the recently concluded International Book Fair, comes this literary party, which combines reading with music, theater and cinema.
The activities, which will last until April 2, are dedicated to commemorate the birth of Danish writer Hans Christian Andersen (1805-1875), author of texts like The Ugly duckling and The Little Mermaid.
One of today's attractions is the presentation of the audio book Classic Tales I, which includes several of Andersen's creations as The Steadfast Tin Soldier and others like Snow White and the Seven Dwarfs, Cinderella and Puss in Boots.
This album is the second in a series which brings together several editions of children's program Si yo te Contara (If I told you), by the station Havana Radio, told Prensa Latina Alina Llerena, specialist in the record label La Ceiba, ascribed to the radio channel.
The first of the collection was the album Tesoros de La Edad de Oro (Treasures of The Golden Age), with tales of the famous book of the same name dedicated to children by the intellectual and Cuban independence hero José Martí, she said.
In the children's book Cuban festival blind children will also be present. For them will be presented the animated series Negrito Cimarrón (The Little Runaway Slave), with audio description and narration system, by the specialist Jorge Frómeta.
The program includes the play Fábulas de Escritorio (Desktop Fables), by the puppet group Retablos, under the direction of Chistian Medina, as well as storytelling and meeting with authors.
Screenings of movies and animated shorts films inspired by tales of Andersen and other creators for children and youth, including Hansel and Gretell, of the Brothers Grimm and Cinderella, by Charles Perrault, complete the program.
The public library Rubén Martínez Villena, in Plaza de Armas (Arms Square), the Lumiere cinema and Hans Chistian Andersen Ecological Garden, in the historic center of Havana, are some of the scenarios for this literary party.