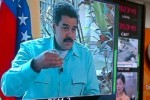 Venezuelan Vice President Nicolas Maduro has told Latin American TV network teleSUR that he had visited President Chavez twice in the past days and that he had shown "gigantic force" as they spoke of political issues.
Maduro said he was returning to Venezuela after spending several days alongside Chavez and members of the president's family.
"During these days I was able to see him twice and speak with him," Maduro said during an interview from Havana with regional television network Telesur. "The commander is fully aware of the gravity of his situation and has asked me to report the truth to the people, which I have done and will continue to do."
"I saw the President, he greeted me and squeezed my hand with gigantic force as we talked about the state of the economy and the swearing-in of newly elected governors," said the Vice President, who Chavez last month designated as his successor, telling supporters they should vote for Maduro if a new presidential election was necessary..
Moreover, Maduro called on Venezuelans to "immunize themselves from the rumors and lies being circulated on social networks and opposition media." Those who are spreading the rumors about Chavez's demise, he said, are "the enemies of Venezuela, the right-wing journalists," who are "mentally ill, hateful and have no boundaries or respect for families, for the people."
Maduro said Chavez faces "a complex and delicate situation", but added that when he talked with the president and looked at his face, he seemed to have "the same strength as always."
"All the time we've been hoping for his positive evolution. Sometimes he has had light improvements, sometimes stationary situations," he said.
He also mentioned that the leader of the Cuban Revolution Fidel Castro had been in the hospital, and praised the solidarity and support of the Cuban government and people. "Today we're together on a single path," Maduro said.
Chavez is currently in Havana, Cuba, where he underwent his fourth cancer-related surgery on Dec. 11. It was reported that he suffered complications from the surgery, although his current condition is said to be stable.