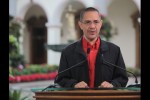 Venezuela's President Hugo Chavez has been facing complications stemming from a severe lung infection, said Communications and Information minister Ernesto Villegas.
Speaking to Venezuelan national TV and radio Villegas said that the release of the report was indicated by executive vice-president Nicolas Maduro, according to PL news agency.
With the official communiqué, the government of the Bolivarian Republic of Venezuela meets its duty of informing the Venezuelan people and sister nations on the clinical progress of President Hugo Chavez.
The information explains that after Comandante Hugo Chavez underwent surgery on December 11, he has faced complications resulting from a severe lung infection.
The infection has derived in a respiratory deficiency that requires strict medical treatment to be met by Hugo Chavez.
The government of the Bolivarian Republic of Venezuela reiterates its trust in the medical team assisting the President, which has permanently followed the patient's clinical progress and has acted with the highest rigor in facing each difficulty, the communiqué reads.
The Venezuelan government alerts the people about a psychological campaign launched by transnational media companies regarding the health condition of Hugo Chavez with the aim of destabilizing the Bolivarian Republic of Venezuela, disregarding the people's will expressed at the October 7 presidential elections and toppling the Bolivarian Revolution headed by Chavez, reads the document.
Such objectives are faced with the strong unity of the Bolivarian government, the organized people and the National Armed Forces in support of the leadership and political ideas of Commander Hugo Chavez, concludes the communiqué.