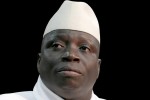 Gambian President Yahya Jammeh will visit Cuba this week in his first foreign trip since 2011. He come to the island as a special guest of Cuban counterpart Raul Castro and is scheduled to take off on Friday.
The two countries established diplomatic ties during the transition period in 1994 after a military coup in the Gambian capital Banjul.
Cuba has provided support to Gambia in terms of health, education and sports.