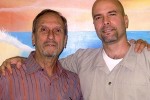 Cuban anti-terrorist fighter Gerardo Hernandez sent a heart-felt message to outstanding US movie maker and journalist Saul Landau, currently facing an advanced stage of a serious disease.
Landau visited Hernandez in prison on several occasions along actor Danny Glover. The renowned US journalist was recently awarded the Cuban Friendship Medal, which is granted by the Cuban Council of State, on the proposal of the island's Friendship Institute.
In his message, Hernandez regretted the painful moments facing Landau and his relatives and he said that old friends have been calling about him or visiting him in his difficult circumstances.
The Cuban hero stressed that Landau will always be among his friends; particularly among the five Cuban heroes once they are finally together in Cuba.
He said that Landau will always be remembered through all his works, including 1968 images he took of Fidel Castro, his books, his interview with former Chilean president Salvador Allende, all his works on Chiapas, or his poems, and articles as well as his decorations, such as the Cuban Friendship Medal, Chile's Bernardo O'Higgins Prize and so many others.
The Cuban ant-terrorist fighter, who was given two life terms plus fifteen years by a biased Miami court in 2001 for charges that were not proven, and after he and his four compatriots monitored Florida-based terrorist organizations, thanked Landau for his teachings and his friendship.
"It actually is not true, Saul. I know that this will only be a trip. What I do not know is if we will be able to communicate then, and therefore I do not want to wait till you depart to tell you this: Thanks for everything, my brother, it was an honor sharing with you".
"In the name of the Cuban Five, our relatives, and so many Cubans: Thank you", said Gerardo in his message to Saul Landau.