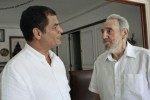 Cuban Revolution leader Fidel Castro sent  Rafael Correa a message congratulating him for his re-election as Ecuadorian President.
In his message, which was aired by Cuban television, Fidel Castro highlights Correa's speech and his great moral and political authority in assuming again the country's presidency.
He said "I perceived the firmness of your voice when you irrefutably condemned the (US) economic blockade of Cuba. No matter how long our species´ eventful history will last, nobody will be able to ever prove that coarse material interests will form more virtuous and honest citizens. The small girl that laid the presidential band on your chest today proved all the contrary," Fidel pointed out.
"A just idea from the depth of a cavern can be stronger than an army," the Apostle of our independence said," Fidel pointed out and concluded his message dated May 24, by congratulating Correa also for his fair and heart-felt homage to Hugo Chavez, a man that loved Ecuador that much.
(Taken from RHC)