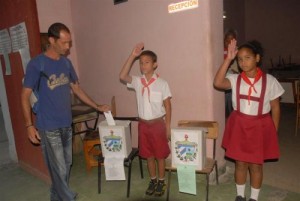 Mass participation in Sancti Spiritus February 3rd elections.Sancti Spiritus February 3rd elections was characterized by the mass participations of the people. According to preliminary results reported from the Provincial Electoral Commission (CEP, in Spanish), over 90% of local electors exercised their right to vote.
CEP President Orelbe Jacomino Ramos praised the discipline of local residents when casting their votes to elect the delegates to the Provincial Assembly of the People's Power, and the deputies to Parliament, which is one of the most important stages of the electoral process in the island.
This was a patriotic day for the residents of this central Cuban territory, where most of the 365 000 registered electors went to the polling stations to back the continuity of our socialist process.
The information flew smoothly, added Jacomino, with the support of digitalized means, alternative and conventional telephones, hams, and trunking in the most remote areas.
[nggallery id=46]