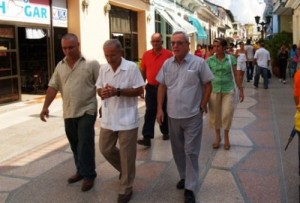 Eusebio Leal praised restoration actions in the so-called Yayabo village.
Dr. Eusebio Leal Spengler, director of the recently constituted Office Network of Cuban Heritage Cities, paid a visit to Sancti Spiritus.
Leal, who is also Havana City Historian, praised the restoration actions carried out in the so-called Yayabo village on the eve of its 500th foundation anniversary. He said that the change is not only visible in the historic center, but throughout the whole city.
"As soon as you arrive in Sancti Spiritus, you can perceive how the commitment to bring life to public areas, has contributed to the people's feeling —he said— This fact fosters the rise of a movement aimed at the protection of sites, and creates a more favorable environment for the development of the individuals' best qualities".
According to Leal's own words, he decided to tour the heritage cities in the centre of the island to give his support, and to try to find out how the Office Network can modestly contribute to structure a movement that allows the creation of workshop schools.
"What has been done in Sancti Spiritus explains the need for the government to create conditions to open the very much needed workshop school", he added.
José Ramón Monteagudo Ruiz, member of the Central Committee, and first secretary of the Party in Sancti Spiritus, expressed his gratitude for Eusebio Leal's support, and stressed that he represents a motivation to continue to preserve existing heritage, and to keep on preparing the half-millennium festivities in Sancti Spiritus and Trinidad.