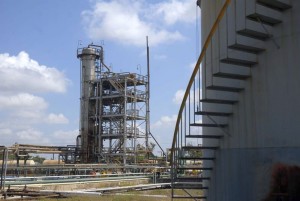 The introduction of a gas flaring system in Sancti Spiritus's Sergio Soto Refinery avails new perspectives to crude oil processing in this plant, the only one in the country that exclusively works on Cuban raw material.
This solution, resulted from the combined efforts of the factory staff, the Engineering and Oil Projects Company (EIPP), and the Oil Investigation Center (CEINPET), all ruled by the Ministry of Energy and Mines, was a relief both for local residents, and for the factory itself, which was strictly subjected to environmental regulations.
According to engineer Léster Alain Alemán, general director of the refinery, the mechanical equipment has been already installed, and the incineration process already started at the F-101 furnace runs smoothly.
Alemán also referred to the pollution trials carried out by CEINPET personnel in eight different locations in the city. Trial results were reported to be within permissible parameters, a criterion shared by the Provincial Environmental Center's experts, who were also consulted by Escambray.
Thus, Sergio Soto Refinery keeps processing considerable amounts of high sulphur crude oil extracted from western Cuba, as well as light crude coming from Ciego de Avila and Sancti Spiritus provinces' oil fields.
Despite the factory's predominantly old technology, and the high cost of the crude oil collection process, the company exhibits favourable efficiency results, and a growing involvement in import substitution projects.