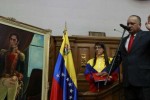 With clear majority, Diosdado Cabello was reelected to chair the National Assembly, while Dario Vivas and Blanca Eekhout as first and second vice-presidents respectively.
For secretary and undersecretary of the parliament, socialists proposed Ivan Zerpa and Victor Clark, respectively.
Deputy Fernando Soto Rojas raised the socialists' proposal in a session held at the Federal Legislative Palace, in Caracas, to choose new authorities in parliament.
"We reaffirm comrade Diosdado Cabello, a very well known compatriot by our people, who lived large part of the Punto Fijo Pact era and this Bolivarian juncture beside Commander Hugo Chavez," Soto Rojas said.
Concerning the first and second vice-presidents, Soto Rojas said: "Dario Vivas is another experienced compatriot in matters of national and municipal legislation. And Blanca Eekhout to continue with the Revolution with a woman's face."
(Taken from AVN)