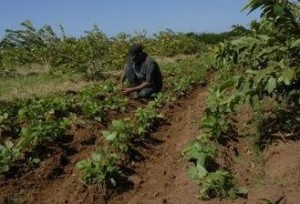 Under Decree-Law 300, enacted since last December 9th in the Cuban central province of Sancti Spiritus, interest over land prevails, and by the end of January over 780 applications for new terrains or expanded areas were quantified.
Of that number, 456 are filed and pending approval while the 9% of the requests corresponds to those wanting to add more areas, according to one of the benefits designed in Decree-Law 300 which provides the foundation for individuals linked to state farms and cooperatives to expand their lands until 67.10 hectares within a 5 kilometers radio.
According to Alexis Vega Perez, Sancti Spiritus Deputy of the Land Inspection Control Center, the same trend manifested with Decree-Law 259 prevails because more than half of the requests are directed to various crops and livestock, while destinations such as cane, snuff and forestry, which are of state interest, so far do not reflect applications at a large scale.
The lands demanded-until January-are mainly located in the municipalities of Taguasco, Sancti Spiritus, Trinidad and La Sierpe, and amounts to 4106 hectares, the 40 % of idle land available or poorly exploited in the territory. A striking feature of this process is that the 37 % of the applications filed belongs to people without employment while 68 are women.
"Among the most significant changes contained in the new Decree-Law are linking natural persons to state farms, and cooperatives and the authorization of the construction of a dwelling for the usufructuary under the concept of real state (when the usufruct is extinguished, he/she must abandon the house)",explains the official of Agriculture.