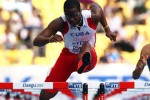 Dayron Robles, former world record man and Olympic Champ in 110 hurdles, is no longer part of the Cuban national athletics selection after he requested his discharge from the team.
Juventud Rebelde newspaper reported that the Cuban Athletics commissioner Jorge Luis Sanchez confirmed the news, which was already commented by the public and by foreign media without official confirmation amidst conjectures and speculations.
Commissioner Sanchez said that Robles did not want to keep competing and though they tried to persuade him, he insisted in his discharge. Robles is no longer part of the Cuban team, he said.
Following his performance at London's Olympic Games, Robles said he was very concerned and disappointed due to the series of lesions he had suffered from since 2009.
Cuban sports face a sensitive loss with Robles departure; his outstanding career cannot be forgotten either by fans or detractors, the paper says.
Jorge Luis Sanchez, a new commissioner since December 2012, is now looking forwards to taking Cuban athletics on the path of victory, keeping Cuban supremacy in this sports modality in the continent and keeping its position as part of the world athletics elite.
"We are now reorganizing the National Commission by boosting the application of science and technology to improve results; improving methodological work at all levels; drawing up working strategies and focusing on the identification of new talents", said the commissioner.