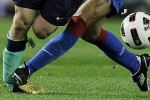 The Cuban women's soccer squad, U-20, beat the national team 2-1 in the first of 2 agreed warm up games celebrated at the capital's Pedro Marrero Stadium, that will house the 2nd match on Tuesday.
Yarenia Perdomo was the great figure of the winning cast, led by coach Jose Luis Elejalde, while Rachel Peláez highlighted for the older girls.
The U-20s are preparing to intervene in the final stage of the Caribbean, based in Jamaica, from 16th to 27th of the current month, in which Cuba was placed in Group A along with Trinidad and Tobago, Anguilla and Granada, while B will bump the Dominican Republic, Suriname, Saint Kitts and Nevis and the host.
According to the timetable, the first 2 sets of each group advance to the semifinals, and the finalists will receive a quota for the CONCACAF finals to be held in Cayman Islands in January 2014.
This CONCACAF final involves 8 selections and grants 3 tickets for the World Cup U-20, based in Canada in mid-2014.
In the final of the Caribbean in Jamaica, Cuba debuts against Granada on 18th, on the 20th will face Anguilla, to close on the 22nd against Trinidad and Tobago, without any doubts, the most difficult opponent.