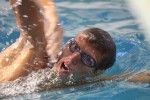 Cuban Hanser Garcia won the gold medal in the 100m freestyle during the second stop of the Mare Nostrum circuit being held in Barcelona, Spain.
Garcia, who had a time of 49.64 seconds in the preliminary round to head the list of the 72 entered competitors, stopped the clocks in the final in 49.14, according to the website of the Catalan Swimming Federation.
The swimmer was escorted by Russian Evgeny Laguinov (49.40) and Japanese Sinri Shioura (49.47), in that order.
Meanwhile, Cuban Pedro Medel managed a creditable sixth seat in the 200 m backstroke with time of 2:01.68 minutes, while in the 50 m of the same style he failed advancing to the finals when finishing eleventh (26.61 seconds ) among 36 participants.
Garcia will also participate in the 50 m freestyle, his less strong event, while Medel will be in the 100m backstroke.
This event serves as a preparation for Cuban swimmers towards the World Swimming Championship, which will host this city, from July 19 to August 4.