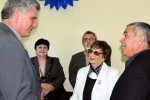 First Vice-President of the Councils of State and Ministers of Cuba, Miguel Díaz-Canel, attended Hanukkah celebrations in the main Jewish Synagogue in Havana on the first of December.
The Cuban leader was received by Adela Dworin, President of the Hebrew Community in Cuba. Caridad Diego, head of the Office of Religious Affairs at the Central Committee of the Communist Party of Cuba was also present.
Díaz-canel was given the honor of lighting up the first candle of this year's celebrations.
Then a documentary film produced by the Cuban Jewish community showed Fidel Castro attending the Hanukkah feast in 1998 and Raul Castro at the 2010 celebration was shown. Jewish young people then performed songs and dances typical of Hanukkah.
At the conclusion, the Cuban first vice-president said: I appreciate the way that you have been able to preserve and upkeep the traditions of the culture, history and traditions of the Jews of Cuba. Together we can all contribute to building a better society. It has been an unforgettable evening.