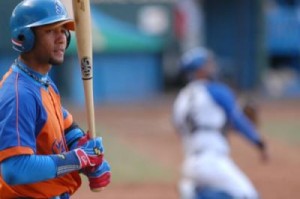 Yulieski Gourriel talks to Escambray about his decision to move to Havana.
The possible inclusion of Sancti Spiritus third-baseman in Industriales' roster, historical rival of Los Gallos (Roosters), has raised a controversy in the baseball panorama in Cuba. In the center of the media storm, Yuli (his baseball nickname) agrees to talk to Escambray.
Just a few days ago, in front of the National TV cameras, Yulieski Gourriel confirmed what was only a rumor among baseball fans and specialists; it is "possible" that in the coming national season, Roosters' captain changes his usual uniform for the blue t-shirt of Havana's Lions.
However, the mere possibility of a change has brought several furious reactions, not only among fans in his province, but also at a national level.
Some prefer to respect the athlete's will, who claims he's moving to the capital to accompany his father Lourdes Gourriel; others, the great majority, reproach him for being disloyal to his local team.
The second of the Gourriel brothers is well aware of that, and confesses to feel astonished by the magnitude of the scandal born of his personal decision: "I'm really shocked by the reactions that have emerged from this situation. The last time I was interviewed by the National TV, I answered the same I'm saying now: I'm moving to Havana, but there's nothing certain yet about me playing with Industriales or Sancti Spiritus next season.
"I'm immersed in the current championship; Sancti Spiritus is doing quite well, when all this ends there will be time to decide what's going to happen with my future in baseball. It's very clear that if I finally play for Industriales it will be for my father's health problem. I would do anything for him. If I have to play for the Blue Lions, then I'll just do it. He is above everything".
Why you, and not your brothers?
This was all talked in family and we all agreed it was going to be me because I was the more experienced in baseball.
More experienced or more skilled?
I don't consider myself more skilled than my brothers. They are qualified enough to play everywhere they want. It was a family choice.
Many say that you have played this season with your mind in two places, and your heart of two colors.
I don't think so. I have been playing the same way, with my mind on my team, of which I'm proud to be captain, and I'm very happy with our performance this year. It also happens that I'm suffering from an old injury I got before the World Classic that is affecting me since the matches versus Industriales. I got an ultrasound and it's more acute now. I want to be in good shape for the playoffs so I'm going to physiotherapy and having some rest when possible. I've always made errors, but this year has not been good at all at defense. Anyway I think this could be our season to win, the only title I don't have.
Could you settle the debt before you go?
It is not just my debt to pay, the whole team owns it. One athlete does not make an entire squad champion, though I recognize I have a big role to play.
What about your international debts? You were once again described as the villain of the WBC
I've always tried to give my best but sometimes things do not turn out the way you want them. In the WBC I didn't start well, so I worked hard in the trainings and set myself to have a better second stage, which was the most important, and I made it. In the last game everyone knows what happened. I had a great offensive encounter but many other things went wrong. What I think is that I've always been excessively questioned; everyone notices when I don't perform good. If I do well, it is common; others have functioned similarly, and have erred but they never stand out like me.
I admit that sometimes I'm over-confident, that I've lacked motivation. I've found the way to do it and become member of the Cuban team, which has been my greatest drive so far, but I would love to test myself in other baseball championships in the world.
Assuming a change of "suit", have you thought that your personality does not match Industriales' style?
I don't agree with that. I've been in several teams Cuba, with several managers and several styles and I've always adapted myself to them. I'm an athlete who loves challenges. I don't' think there's a style of game I cannot adjust to.
Another "assumption", will you be opponent of your brothers and your team?
It will be something contradictory; I wouldn't like to rival my brothers or my team-mates, ever. It wouldn't cross my mind. We've joked a lot about it but I can't imagine us being opponents.
The public who has booed you the most is the "blue" one…
Everyone says so: there aren't as many people in other stadiums as in the Latinoamericano, that is why is louder, but I'm booed in all stadiums, even in my own.  Noone really knows how hard it is. It disappoints me because it is not fair. I play the whole year away from my family, I go through difficult times, I've rejected so many offers, I've been patriot by all means and people does not take that into account and it hurts.
Are not you concerned to lose Sancti Spiritus and Cuban fans?
No, I'm not. That would be their choice. I don't do this because I want, I already explained that. If my father would not have health problems, this would never happen.
Officially or not, you are about to break with Sancti Spiritus
That is not decided yet, but given the case, this is my province, where i was born, where I was raised and became a player. I owe it much of what I've accomplished. Wherever I am, Sancti Spiritus will be present for me. I know that fans are really demanding but I've given all of myself. I'm a player who's been there in all seasons; I've only missed games due to injuries. I'll defend the colors wherever I am, but Sancti Spiritus will always be in my heart.
Translated by Escambray