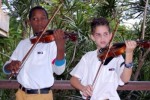 Pedagogy 2013 International Education Congress will include a workshop on Thursday by Culture minister Rafael Bernal to focus on culture at the center of the Cuban artistic system.
Also participating at the workshop is the rector of the Higher Arts Institute, Rolando Gonzalez, and the director of the National Center of Arts Schools, Rolando Ortega.
Today's morning session will also include a teleconference entitled Preparation of Youths for the Labor World and in the afternoon the forum will focus on the results of Cuba's education counseling of communities in Venezuela.
Pedagogy 2013 is being attended by nearly 3 thousand delegates from over 30 countries, who are exchanging their experiences in an effort to contribute to high-quality and accessible education for all students.