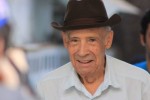 Cuban actor Reynaldo Miravalles received the Coral of Honor at the 35th International Festival of the New Latin American Cinema, which granted its prizes on Sunday during its closing session.
Miravalles received the distinction from renowned actress Daysi Granados as recognition by Cuban film institutions of the actor's outstanding work in the world of cinema.
The experienced actor, who has worked in nearly all important Cuban films, resides in the US city of Miami and he returned to Cuban movie screens in 2012 in the full-length movie Esther Somewhere, in which he shares his performance with Daysi Granados, Enrique Molina and Eslinda Nuñez.
Miravalles recently told Cubadebate website that wherever he lives, Cuba is always his country while he will always prefer Cuban cinema, because it is the movies made in his homeland.
The Festival, which ran December 5-15, also granted another Coral of Honor to Cuban cartoon maker Juan Padron, who created popular characters, such as Elpidio Valdes and Vampires in Havana.