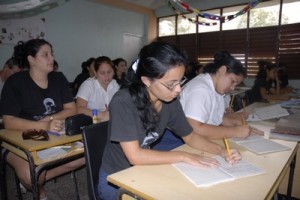 Cuban students kick off activities relevant to the 8th Congress of the University Student Federation, which takes place June 13 and 14 in Havana.
Delegates to the university students' meeting will gather in working commissions to address different issues related to their everyday life and will learn details about the ongoing update of Cuban economy.
They will also pay tribute to University Student Federation founder Julio Antonio Mella, and to Cuban intellectual Armando Hart.
The agenda also includes a meeting with anti-terrorist fighter Rene Gonzalez about the ongoing world strategy to achieve the release of Gerardo Hernandez, Antonio Guerrero, Ramón Labañino and Fernando Gonzalez, who are still serving unfair and extremely long prison sentences in the United States.
Working commissions will address the performance of the federation, ideological work, the teaching and research activity, international relations among other subjects.
For the delegates, representing the rest of the students entails a challenge, and those who will meet that task will bring the opinions, concerns and proposals of their colleagues, said University Student Federation president Lisara Corona.
All the information to be presented and debated at the congress will be shared by the students in order to improve and consolidate their role inside and outside the classrooms, said the student leader.
On June 14, the congress will hold a plenary session before its closing.
Preparations for the student congress began in January with local assemblies in different Cuban universities.