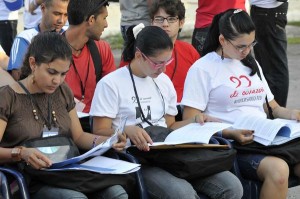 With the motto that "for young people committed to their time, all time is short to do", starts this Wednesday the work sessions of the VIII Congress of the Federation of University Students (FEU).
In the Julio Antonio Mella  Youth Communist League National School UJC, where the 250 delegates are staying, a special morning ceremony took place as the occasion will mark the beginning of three exchange days that promise to be intense and very well used.
The inaugural session of the Student Congress will have among its "highlights" the opening of the photo exhibition Los Rostros de Mella that traces the short and fruitful existence of the FEU and first Marxist-Leninist Party of Cuba's founder.
The rest of the morning and all afternoon elapse between lectures and lively discussions on diverse issues, such as updating the economic model and the improvement of society, and the Higher Education and its challenges.
There will be time also to discuss the space for dialogue of generations, which is the Patria Joven blog, and entertain his inspiring person, the member of the Party Central Committee and leading intellectual revolutionary Armando Hart, who will celebrate his 83 birthday tomorrow.
But, no doubt, what everyone expects and now has to get there is the encounter with Rene Gonzalez Schewerert, one of the five Cuban antiterrorist fighters unjustly sentenced in the U.S. and first to return to the country, after 13 years and one month in prison, plus eighteen months of supervised release.
On December 20, the nearly 130 thousand FEU members were invited to build, step by step, a Congress of Revolution and of desire to do for Cuba, for the future and definitions of beliefs and essences, that mobilize students.