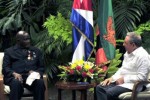 The President of Cuba's Councils of State and Ministers, Army General Raul Castro held talks on Thursday with Kenneth David Kaunda, the first president of the Republic of Zambia, who is paying a visit to the island.
Granma daily newspaper reported that Raul and Kaunda recalled key aspects relevant to the historic relations between Cuba and Africa, and between the island and Zambia in particular.
Kaunda, one of the founding fathers of African independence, expressed his interest in strengthening bilateral links every passing day, as it corresponds to relations between sister nations.
Raul Castro, on his part, expressed his gratefulness to Africa's support of Cuba and he noted that he was convinced that bilateral relations are solid and deep.
The talks were attended by Zambian ambassador Bobby Mbaunji Smakai and by Jorge Risquet, member of Cuba's Communist Party Central Committee.
Besides,  Raul Castro met Thursday, in Havana, with Doctor Mohsen Bilal, special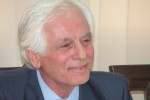 envoy of the President of the Arab Republic of Syria, Bashar Al-Assad.
According to Granma daily newspaper, Mohsen Bilal conveyed greetings from the Syrian head of state to the Cuban President and he addressed the current situation in his country.
The Cuban President underscored the right of the Syrian people to their self determination and sovereignty without any foreign interference.
The meeting was attended by Cuban foreign minister Bruno Rodriguez Parrilla.