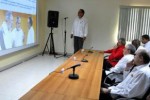 Raul Castro, president of the Cuban Councils of State and Ministers  and visiting former Brazilian president Luiz Inacio Lula da Silva toured  important projects underway at Mariel Harbor in the eastern part of the island.
Raul Castro described the works as the most complex project implemented in Cuba ever in a harbor that is expected to become the island's main foreign trade door.
He said that the Mariel harbor is not only strategic for Cuba but also for the region and he referred to the country's investment development and the update of the Cuban economic model.
The harbor project is the first investment to set up the country's first Special Development Zone in a 465-square-kilometer area, which is in tune with the policy adopted by the 6th Congress of Cuba Communist Party, said the general director of the Mariel-DIP company Osvaldo Bravo.
Granma news paper explained that the investment will allow increasing exports, the development of other projects using modern technology to significantly contribute to the replacement of imports and the creation of new employment sources.
The Special Development Zone at the Mariel harbor will include important facilities, such as a container terminal linked to other industrial areas.
Osvaldo Bravo recalled that the expansion of the Panama Canal in 2015 will favor maritime trade in the Caribbean area with bigger boats that will visit the Mariel Port, thus improving operational levels.
Raul Castro and Lula da Silva were given a photographic album of the project depicting different construction stages. The harbor strategy is considered an example of cooperation for the future as it makes an important contribution to Latin American and Caribbean integration.
Lula told reporters that the works are advancing at extraordinary  pace and that he hopes the harbor contributes to Cuba's development, particularly to the setting up and development of an important industrial zone.
The project is being partially funded with credit line granted by the Brazilian government and it is being implemented by an international economic association between Cuba's Quality and Brazil's COI entities.