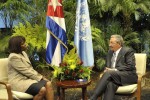 President of the Cuban councils of State and Ministers, Army General Raul Castro, met on Wednesday afternoon with Ertharin Cousin, executive director of the World Food Program (WFP).
During the meeting, the distinguished visitor expressed her satisfaction for the development of the WFP's cooperation projects with Cuba. Likewise, she ratified the willingness of that international organization to support the island's efforts for economic and social development.
Cousin took an interest in the process of updating of the Cuban economic model, specifically in the food sector, a topic on which she was given detailed explanation.
The WFP is an institution of the United Nations System, specialized in food aid.
Also present during the talks were Laura Melo, WFP representative to Cuba, and Rodrigo Malmierca, Minister of Foreign Trade and Investment.