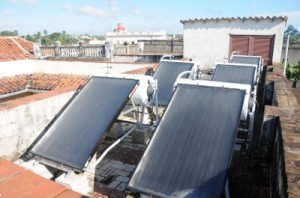 Diminishing dependency on fossil fuels, and taking advantage of alternative sources of energy are top priority issues in Sancti Spiritus.
This central Cuban province  is trying to work out a strategy in this respect, thus the construction of two photovoltaic farms has been agreed for 2014.
According to experts criteria, Cuba uses 8 800 000 tons of fossil fuels every year, over half of which are imported. Ninety-five percent of domestic electricity comes from polluting sources, instead of harnessing the potential of the sun, the wind, and the ocean, among other alternatives.
Sources from the electricity company in the territory said that the province is currently focused on photovoltaic solar power, biogas, small hydroelectric and mini-hydroelectric plants, as well as wind power.  Sancti Spiritus aims at producing more electricity from renewable sources in the near future, he added.
The abovementioned photovoltaic farms will be constructed in the local municipality of Yaguajay.