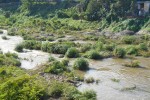 Cuba is currently preparing a new law that covers all actions related to water management in the country, according to Dr. Orlando Rey, a high official of the Ministry of Science, Technology and the Environment.
In a speech to the First Conference of Strategic Studies in Havana, doctor Rey said that shortage of drinking water and the processes of decontamination and treatment of sewage are key aspects in the Cuban environmental strategy.
Cuba does not have abundant water resources, so it must depend on rain water, while facing the impact and variations produced by climate change, said the official as cited by PL news agency.
Dr Rey said the world is being affected by a water crisis, with repercussions on the health and food sectors. Lack of water may, and has led to political instability and social conflicts.
Water is not evenly distributed in the world, and Africa is a continent severely affected by the lack of water resources, he said. The irrational use of water resources has led to the depletion of deposits on which over two billion inhabitants depend.