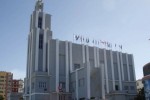 Latin music production in the United States, its market insertion and current music trends are the focus today of discussions at the Casa de las Americas in Havana.
This Second International Symposium of Latinos in Arts and Literature brings together researchers from Puerto Rico, Colombia, Mexico, and Cuba, many of them professors at U.S. universities.
Texts will also be presented from two important U.S. publishing houses led by Latin Americans: Campana, and Arte Poetica Press, whose books are part of the Casa de las Americas collection.
Today's program includes poetry and other readings by Brazilian researcher Allen El-Kadi, Puerto Rican writers Esmeralda Santiago and Nancy Mercado, Chilean poet Cristian Gomez, among others.
Also on the list are Cuban Sonia Rivera Valdes and Argentinean Margarita Drago, directors at the non-profit cultural organization Latino Artists Round Table, to share their experience on the project.
The meeting will close tomorrow, and will be dedicated to exploring the cultural contribution from Latin Americans in the United States, where the Hispanic population includes around 51 million people.