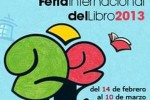 The Casa de las Americas Publishing Fund will present more than twenty titles at the 23rd Cuba 2013 International Book Fair, which begins in the Fortress of San Carlos de La Cabaña, Havana, on February 14.
The collection ¨Premio¨ (Prize) will display in the most important Cuban reading event, the winning texts in the 53rd edition of the Casa de las Americas Literary Prize (2012), including the children's novel ¨Mi hermano llego de otro planeta un dia de mucho viento¨ , by Argentina´s Liza Porcelli.
This segment includes the books ¨El tao del sexo¨, by Argentinean Ignacio Apollo and Laura Gutman, ¨La sangre y el mar¨, by Haitian Gary Victor , and ¨El alufa Rufino. Trafico, esclavitud y libertad en el Atlantico negro¨, by a group of Brazilian authors.
It also appear the works ¨ El problema de la unidad¨, by Cristina Beltrán; ¨Elogio de la altea o las paradojas de la racialidad¨, by Zuleica Romay; ¨Promesa y descontento de la modernidad¨, by Raúl Bueno; ¨Blanco nocturno¨, by Ricardo Piglia, and the poetry anthology  ¨Obra cierta¨, by Ecuatorian Humberto Vinueza.
The Honda Collection, dedicated to young talents of contemporary Latin American literature, will present texts by Orlando Senna, Ivan Egües, Arturo Carrera, William Urbina and Mario Vellatín, among others.
Recent continental studies on literature, plastic and sociopolitical arts will be released in the series: Notebooks of the Casa (de las Americas) and ALBA Bicentenario (Bicentennial), which include works of recognized researchers, as Mirta Yáñez, Julio Ramos and Luis Fernandez.
Roberto Zurbano, director of the Fund, announced that in 2013 this publishing house will reach the thousand published titles, among which you can find a variety of styles, trends and aesthetic of the last 50 years in Latin American literature.